RingCentral Professional

Get instant local and toll-free business phone numbers for a professional image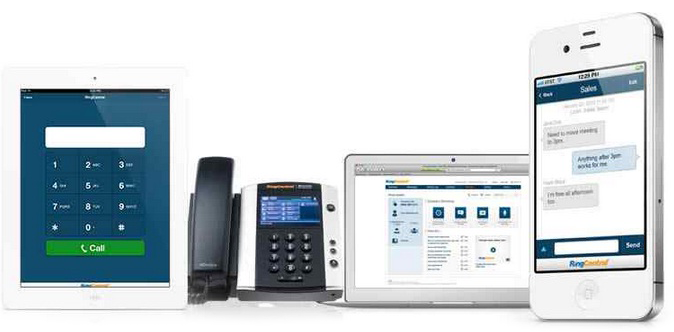 Overview:
RingCentral Professional runs your business from your mobile device with inbound call management, toll-free and local numbers, and multiple extensions.
Connect the way you want with team messaging

Get toll-free and local fax and phone numbers
Quickly transfer your existing business phone number or select and activate a new virtual number in seconds.

Easily receive and manage calls
Inbound calls seamlessly route to your existing phones, remote workers, or the voicemail of your choice.

Present a professional image
Calls are your most valuable customer touch points. Welcome them with a professional greeting and easy-to-follow menus.

Do business better for less
Monthly costs are less and there is no hardware, contracts, or setup fees. Plus you can use your existing devices.
---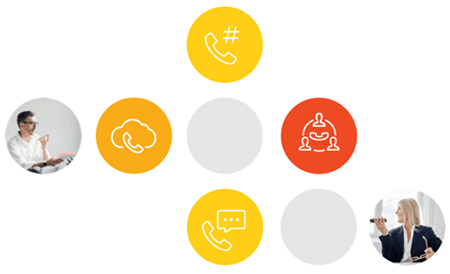 Create a first-rate experience for your customers
It pays to make a great first impression. RingCentral Professional system administration is simple. Start with a toll-free business number to show your customer is top of mind. Then add personalized greetings and auto-receptionist to ensure every call is answered professionally, 24/7. Finish with call routing and custom extensions so calls reach the right team member.
---

Gain flexibility for your mobile business
Since your business isn't tied to a landline, you have the freedom to work anywhere, anytime, on any device with the RingCentral app. Separate your business and personal calls so that each gets the unique attention they deserve. Get a better balance of features, functionality, and cost than with a smartphone, traditional business phone, or call management system.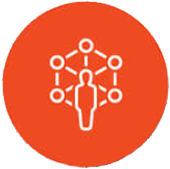 ---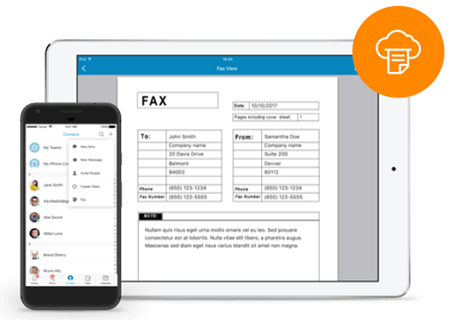 Close deals faster with internet fax
You may not fax every day, but when you do it can be a critical last step in getting a deal done. Don't worry about being near a fax machine. Now you can fax online to or from your laptop, tablet, or smartphone with the RingCentral app. And you can easily file or forward digital faxes, even when you're away from the office.
---

Get started in minutes
Sign up now and your business phone numbers will be available instantly. You can install the system software and set up your account with a few clicks and start receiving business calls on your smartphone or laptop right away. There are no phones to buy, long-term contracts to lock you in, complex pricing, or cumbersome system administration. Doing business like a pro just got a lot easier.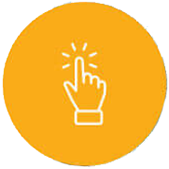 Features and Benefits:

Available Phone Numbers
Toll-Free Numbers
A toll-free number gives your business instant credibility and provides your customers easy access to your company. Choose from 800, 888, 877, 855, 844, or toll-free vanity numbers.
Local Numbers
Establish a local presence with more than 200 available area codes. Direct customer calls to a single number, such as a home phone, or take advantage of all the features a cloud-based business communication system has to offer.
Directory Listings
Directory Listings increases your company visibility with free publications of your business details in local and national directories.


Call Management
Auto-Receptionist
Every local or toll-free RingCentral number includes an Auto-Receptionist to greet and identify callers and to direct calls anywhere.
Extensions
Extensions create flexible structure to incorporate employees at local and satellite offices, wherever they are. Edit, add, or remove extensions anytime.
Answering Rules
Give your business communications system the flexibility to work around any schedule. Use answering rules to route calls based on a range of options for your company main number, as well as for individual extensions and mailboxes.
Call Forwarding
Always be in the right place at the right time to take calls. Automatically forward your calls to multiple phone numbers, such as an office, home, hotel, and smartphone.
Call Screening
Take complete control over who can reach your company. Take calls from particular callers, block specific numbers, and send others directly to voicemail.
Dial-by-Name Directory
A dial-by-name directory lets callers easily find user and department extensions by spelling out the name on their phone keypad.
Call Recording
Keep a record of your company's most important phone calls. To begin recording, simply press *9. Press *9 again to end your recording—it's that simple.
Call Logs
RingCentral call logs keep a complete record of all your inbound and outbound calls and faxes. View the name of the caller, the number or extension dialed, and the time, date, and duration of the call.
Message Alerts
Get instant notifications for voice and fax messages by email, SMS, or our real-time call management application, softphone.
Missed Call Notification
See the time of the call, then call back, text, or block the caller with a simple tap on the mobile app.
Caller ID Control
RingCentral gives you caller ID tools for making and receiving calls.
RingMe
RingMe makes it easy for customers to contact your business from anywhere in the world.

Voicemail & Greetings
Voicemail
RingCentral voicemail ensures that your company will never miss a customer call.
Visual Voicemail
Visual voicemail offers robust management features for RingCentral voicemail and fax messages. Return calls, delete messages, and perform other actions—all on a single screen.
Greetings
Establish your company's brand, enhance your professional image, and grow your business with professionally recorded greetings.
Music on Hold
Keep callers entertained and informed with music and messages on hold.

Internet Fax
Internet Fax
RingCentral Professional includes the most advanced online fax features available anywhere.

Mobile Apps
iPhone/iPad
Access your communications system anywhere, anytime on your iPhoneor iPad. Receive calls, check voicemails, send and receive faxes, change settings, and more all on your iOS devices.
Android
Take your business anywhere with the RingCentral Mobile app. Receive calls, change settings, handle simultaneous calls, and get notifications on active calls, voicemails, and faxes.

Desktop Apps
RingCentral for Desktop
Plug in a headset and use RingCentral for Desktop to turn your desktop into your day-to-day communication hub. Make or answer calls, check voicemails, send or receive faxes, all from your computer.

Integrations
Cloud Storage Integration
Send faxes directly from your Box, Dropbox, and Google Drive accounts. RingCentral FaxOut makes it quick and easy to fax your cloud documents at no additional cost.
RingCentral Internet Fax
RingCentral Professional includes the most advanced internet fax features available anywhere. Receive and send faxes from your computer, smartphone, or Microsoft Office; get notifications on incoming faxes, and much more.
Microsoft Outlook Integration
Because RingCentral is completely integrated with Outlook, you can consolidate voice and fax messages directly into Outlook, send faxes directly from any Windows application, and automatically identify callers as Outlook contacts.
Compare Plans:
Pro
2 extensions Inbound calls only
500 local, long-distance, or toll-free minutes
ProPlus
5 extensions Inbound calls only
1000 local, long-distance, or toll-free minutes
Office All-in-One Standard
10 extensions for inbound calls
1 line for inbound and outbound calls
Unlimited local, long-distance, and 1,000 toll-free minutes
| | Pro | ProPlus | Office All-in-One Standard |
| --- | --- | --- | --- |
| Internet fax | | | |
| Web support | | | |
| Phone support | | | |
| Dedicated fax number | | | |
| Dial-by-name directory | | | |
| Multi-level auto attendant | | | |
| Unlimited conference calls and Business SMS | | | |
| Unlimited video meetings with screen sharing | | | |
| Glip team collaboration software with team messaging and file sharing | | | |
| Integrations with Google, Microsoft and many more | | | |
Features included in all plans
Inbound call management
Use with any existing phone system
Toll-free or local number for voice + fax
Voicemail with free email delivery
Internet fax: send and receive
Advanced call forwarding
Auto-Receptionist
Flexible answering rules
Call queues
Mobile phone integration
Keep your existing number at no cost
Frequently Asked Questions:
Logistics of service
Can I use my current phone number with the RingCentral service?
Yes! Simply forward your calls to your RingCentral number. Or transfer (port) the number to us entirely. Your existing number will be enhanced with the powerful business tools offered by RingCentral.
Can I switch my current toll free number to RingCentral?
Yes, you can transfer your phone number if it is still with your previous provider and is eligible for transfer.
Do I need a phone line or special equipment to make this work?
No additional telephone lines or features are needed to use RingCentral. The unified messaging provided by RingCentral is a completely stand-alone service. To answer incoming calls, you will need a phone with dial tone—that could be a cell phone, your home phone, an office phone or any other existing line. You can also answer incoming calls through your PC with Softphone, a free RingCentral download. RingCentral receives voicemail and faxes 24x7 and saves them to your online account. You can retrieve and listen to these messages directly through your computer speakers. No additional local or long distance telephone features or hardware are required for RingCentral to function.
Can I upgrade to a different service level or change my billing plan at any time?
Yes! You can switch levels at any time directly through your online account. Any existing payments will be prorated.
Am I charged for checking messages?
You can access your online account and retrieve your messages anytime for free. You will not be charged for having your messages forwarded to your email address(es). Text message notifications to your cell phone are free and unlimited. Calls to a local RingCentral number that forward to voicemail or are answered on your SoftPhone are free. When checking messages or logging in to your account by phone for any purposes, e.g., account administration or using your , minutes will be used.
Using your call manager
How long does it take to activate?
Your account and phone number is activated immediately upon signup. You will receive 30 minutes to use as you wish for free during the 7-day free trial.
Can I choose my own toll free vanity number?
Yes. You can get a toll-free vanity number for your business through RingCentral. Numbers are subject to availability, and the ordering process for vanity numbers takes anywhere from 7 - 10 days to complete. There is a $30 setup fee for ordering vanity numbers.
Can I record my own greetings?
Yes! You can record greetings yourself by phone or PC, or use our default system greetings.
Purchasing your call manager
How much do RingCentral services cost?
Service starts as low as $15.99 per month. Please check our for information about each of our plans.
How are minutes used and how much do they cost?
You will be billed in thirty second increments, rounded to the nearest half minute, for each minute of usage. (A fax uses about one minute per page.) For example, if you're on the phone for 1.47 minutes, you will be billed for 1.5 minutes. Keep in mind that RingCentral does not double bill for domestic . Additional minutes may be purchased. Please check our for information. Larger minute blocks are available for our Premium plan members.
Do I "own" my number?
Can I keep my toll free number if I choose to cancel? The number you receive upon signup is your own personal or . So long as you have paid for at least one month of service and your account is active and in good standing, you may keep your number.
Will my credit card be charged during the free trial?
No. You will not be charged during the 7-day free trial. You will be charged if you choose to upgrade to a subscription during the trial. You will be automatically upgraded and billed if you do not cancel before the trial period expires.
What is included in the free trial?
You will receive 30 free minutes to use during the 7-day free trial. The entire menu of RingCentral Professional standard features can be used during the trial.
Is there a setup fee?
No. There is no setup fee.
What kind of commitment do I have to make?
No commitment is required. You can pay as you go (month-to-month) and cancel at any time, without penalties or cancellation fees. Annual subscriptions allow you to save up to 33% off the normal month-to-month price and have a one-year commitment period.
How do I cancel my subscription with RingCentral?
Simply call us at (888) 898-4591 and speak with one of our friendly customer service representatives during 24/7 Customer Support*. Please be ready to verify your account number and billing information as it appears on your account.