RingCentral Fax

Get everything you need in a complete, affordable, and easy-to-use internet fax solution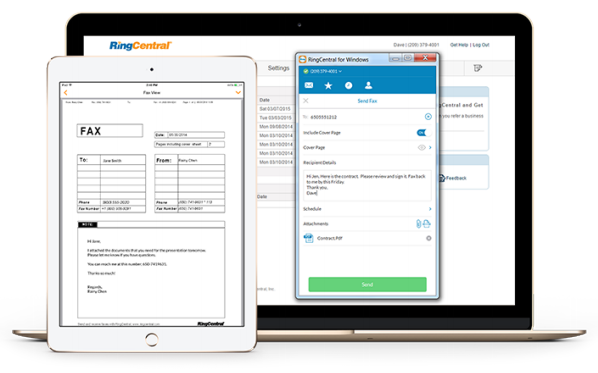 Overview:
The modern, cost-effective way to fax
Close a real estate deal on the spot or sign a purchase order from the airport with ease. Software-based online fax frees you from outdated hardware and the complications of faxing over dedicated phone lines. Manage your incoming and outgoing faxes online and benefit from considerable savings.
How RingCentral online fax works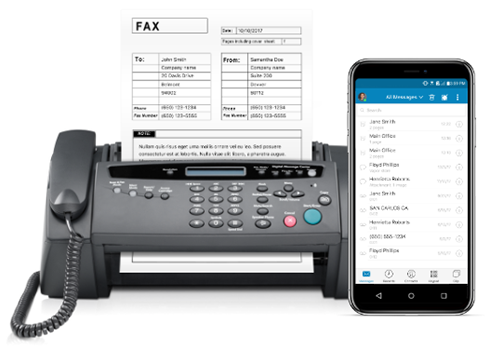 How to send a fax online
Create a "new fax" in the RingCentral mobile or desktop app and enter the recipient's fax number, add message text, and attach files from DropBox, Box, Google Drive, or any Microsoft Office application.
Or, submit faxes online via email by addressing them to the recipient's fax number @rcfax.com. The email text and any attachments become the pages of the fax.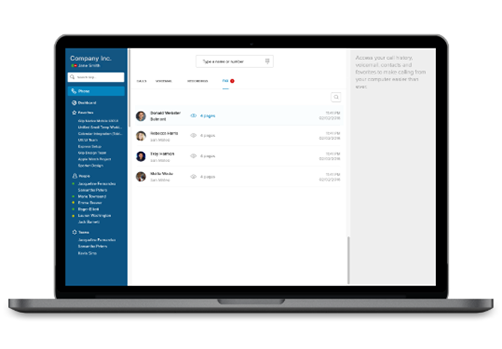 How to receive a fax online
RingCentral will provide you with your own fax number or you can use your existing number. You'll receive internet faxes in your inbox as email attachments that you can forward, file, or print.
Benefit from a complete online fax solution

Flexible faxing
Send and receive faxes from computers, smartphones and tablets with ease.

Security first
Rest easy knowing cloud fax securely transmits over an encrypted internet connection.

Advanced functionality
Send faxes online to groups, block faxes without caller ID, and receive notifications of all activity.

Online account and fax logs
View faxes that you have received and sent and see detailed electronic fax logs via your online account.

Diverse choice of numbers
Keep existing fax numbers or choose toll-free or local numbers.

No work interruptions
Don't worry about being on the phone, you'll still seamlessly receive your online fax messages.
Features and Benefits:

Toll-Free, Local, or Vanity Fax Numbers
RingCentral gives flexibility to manage both your incoming and outgoing caller IDs, including displaying your business name when making calls.


Send and Receive Faxes as Email
Your faxes arrive in your email inbox and are stored in your online account for easy access.
Access your corporate directory and send a fax to someone within your organization quickly and easily.

Integrations
Cloud storage integrations with Box, Dropbox, and Google Drive make it quick and easy to fax your documents from your desktop or mobile device.
Send and receive faxes by email or from any Windows application with RingCentral's integration with Microsoft Office.

Secure Faxing
Outgoing faxes are transmitted over an encrypted connection. Also, you can keep your incoming faxes in your password-protected online account.

Send Faxes Electronically
Preview and print faxes, design custom cover sheets, and send your faxes electronically.

Fax Alerts
Never miss an important fax. Get text messages on your cell phone alerting you to new faxes.

Online Account and Fax Logs
Easily configure your account from the web or from the RingCentral mobile app. View faxes that you have received and sent, and see detailed fax logs.

Features for Power Users
Now you can select Groups for FaxOut just like you use Contacts. Simply create and name a Group, assign members, then select the Group in FaxOut to easily send faxes to its members. Block faxes from senders without caller ID just like you block calls.
Compare Plans:
| | Fax 750 | Fax 1500 | Fax 2500 | Fax Unlimited |
| --- | --- | --- | --- | --- |
| Free pages included monthly | 750 | 1500 | 2500 | Unlimited |
| Shared fax number(s) included with plan | | | | |
| Send and receive faxes on your PC, via email, or with the RingCentral Mobile App | | | | |
| Cloud integration (Box, Dropbox, Google Drive, Microsoft Outlook) | | | | |
| Web support | | | | |
| Phone support | | | | |
| User settings access (for additional lines added for users) | | | | |
Frequently Asked Questions:
Can I send faxes to any machine?
Yes. With , you can send faxes to any fax machine in the US or overseas.
How long are my received faxes stored?
Your faxes are saved for an unlimited time, up to 200 faxes, in your online account. All your faxes will also be saved indefinitely in your Softphone inbox.
Can I send from any application?
Yes. As soon as you sign up, RingCentral is integrated with Microsoft Windows. You'll see a RingCentral fax icon on your Windows applications—such as Microsoft Outlook, Word, etc. When you click the fax button, your document will be converted to a fax and sent to any fax machine with a US or international number.
Can I block junk faxes?
Yes. As opposed to a traditional fax machine, RingCentral Fax lets you block junk faxes as easily as you block junk email. You'll save time and money on printing costs.
How can I broadcast faxes to multiple people?
In your online account, you can create "groups" of contacts and then easily send faxes to those groups.
Can I also receive phone calls on my RingCentral fax number?
You can upgrade to RingCentral Professional service and use your toll free or local number for both fax and voice calls. RingCentral Professional is a complete communication solution for small businesses and individual professionals. Like a personal assistant, it will screen, forward and dial calls, take voicemail , send and receive faxes, and alert you to important messages.