RingCentral Phone for Mobile

Enable BYOD and put your business communications in the palm of your hand
Take HD voice, fax, text, online meetings, conferencing and more with you anywhere on your smart devices.*
RingCentral Phone for iPhone and iPad
Your phone system is in the cloud and travels in the palm of your hand. Use your iPhone and iPad to make and receive calls, send and receive faxes and texts, set up and join conference calls, and configure phone system settings, notifications, and voicemail.
RingCentral Phone for Android
Use and manage your phone system right from your smartphone and tablets. On the go or at your desk, your Android device is ready for calls, faxes, texts, system administration, notifications, conferencing, and voicemail.
*HD voice, text, online meetings, and conferencing are available for select RingCentral Office plans.
RingCentral App for Mobile
Integrated communications: anytime, anywhere
The RingCentral mobile app provides an intuitive, unified experience that lets you call, message, and meet wherever you are. Compatible with company-issued devices or bring-your-own-device smartphones, RingCentral's unified application enables you to seamlessly make calls, check voicemail messages, and connect and collaborate with teams through integrated team messaging and online meetings.
Less app switching, less noise

Call
Cloud PBX with enterprise-grade reliability and quality

Message
Team messaging, tasks, and unlimited file sharing

Meet
Video meetings with advanced screen sharing and collaboration features
---

Carry your business anywhere you go
Dropping, missing, or incorrectly routing a call can mean decreased team efficiency, lost revenue, and a missed opportunity to gain and retain customer trust. In a single tap, RingCentral allows you to connect to team members, customers, and vendors easier than ever before.
Always be reachable with a single business identity for HD VoIP calling, SMS, and online fax.
Customize settings and notifications, such as office hours and ringtones.
Route calls with advanced call controls, like call flip, switch, transfer, and park.
Seamlessly make and receive calls with your carrier minutes, Wi-Fi, or cellular data without ever dropping a call.
---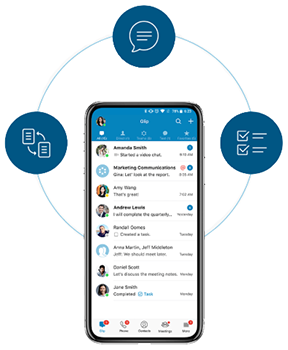 Team collaboration: messaging with file sharing and shared tasks
Stay up to date and productive while on the go. RingCentral's built-in team messaging and collaboration capabilities streamlines your business workflows. This means fewer meetings, quicker decisions, and more productivity.
Chat with colleagues and clients in real time.
Link and file sharing with no size or storage limits.
Create teams for projects, specific topics, or departments.
Free and simple guest sign-ups.
---

Online meetings: a complete video collaboration solution
Increase customer engagement and drive productivity with RingCentral's powerful audio and video collaboration capabilities right on your mobile device. Connect to audio with smartphone data or your mobile carrier. Start or join a virtual meeting in a single tap from anywhere in the world.
Enjoy HD quality video meetings for up to 500 participants.
Share screens and content in a meeting.
Get more control over meetings with advanced in-meeting host and attendee features.