RingCentral Engage

Deliver the next generation of customer service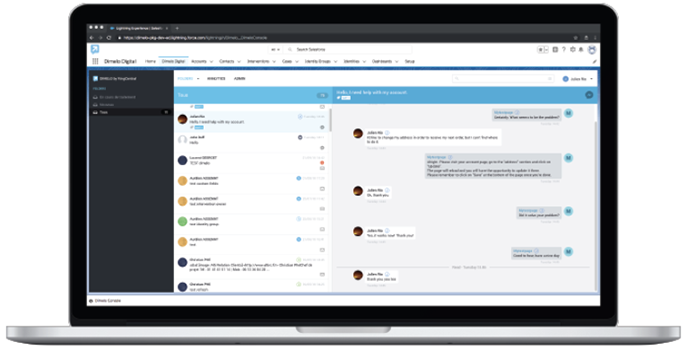 Overview:
Step into your customers' world and engage their way
Connect with your customers wherever they are online and enjoy all the benefits of an omni-digital platform. Collect messages from all channels to increase customer satisfaction, improve agent productivity, and ultimately generate significantly higher revenue.
Omin-Digital
Smart routing
Unified platform
Metrics and KPIs
Open platform


Omni-Digital
Aggregate messages from all digital channels.
Meet your customers where they like to spend their time online via messaging (Apple Business Chat, Facebook Messenger, WeChat, etc.), in-app messaging (iOS and Android), social media (Facebook, Twitter, Instagram, etc.), live chat with contextual information access, email, and community and consumer review portals. Use smart routing and automatic language recognition to further personalize your customer experience.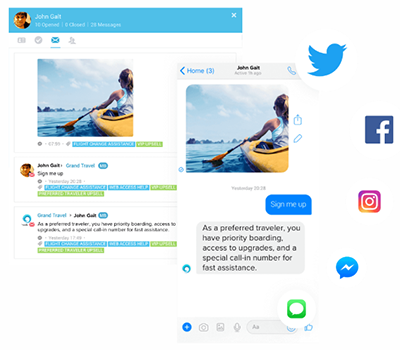 ---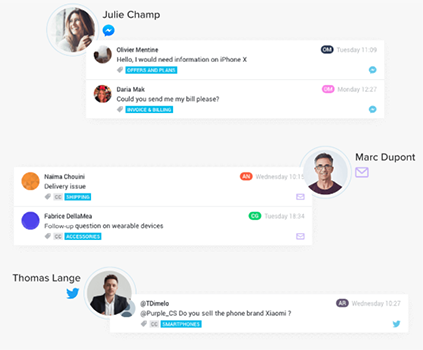 Smart Routing
Allocate incoming messages automatically with AI.
Eliminate the need to manually transfer messages to agents with the right competency by routing messages automatically and accurately. Using our proprietary AI software, Intelligent Classification Engine (ICE), you can categorize incoming messages and push them to the right agent based on urgency and competency, resulting in improved response time, individual productivity, and overall output.
---

Unified Platform
Unify digital conversations on a single platform.
Improve resource handling and eliminate duplicate conversations by merging customer identities across multiple channels into a single profile. Gain a complete picture of your customer based on their historical interactions with your brand and team. Equip agents with the full customer story so they can provide a more personalized experience.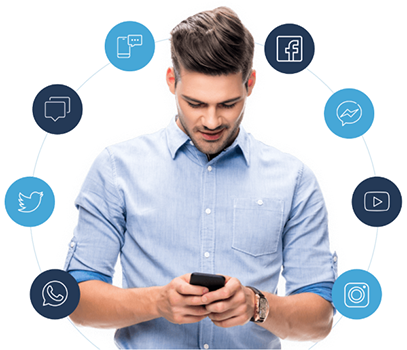 ---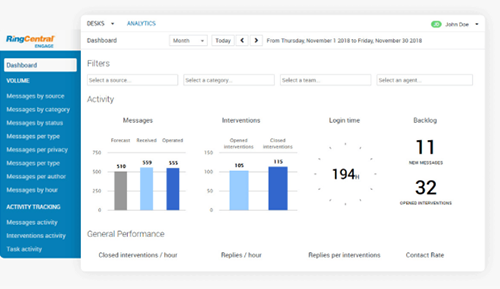 Metrics and KPIs
Optimize strategy and improve KPIs with comprehensive real-time analytics.
Upgrade your customer care strategy by collecting and using data enriched by the RingCentral Engage platform to track your activity across channels and get a full picture of your performance. Identify ambassadors and detractors, improve and upsell products, and increase profits by reducing missed opportunities in your ecosystem.
---

Open Platform
Integrate your business tools on an open platform.
Embed your digital engagement platform with your existing ecosystem and processes, optimizing your tools with valuable information and centralizing your data to pave the way for an improved customer experience.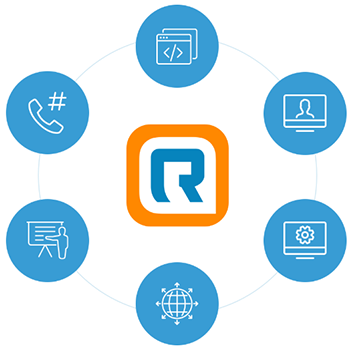 How It Works:
See it in action
Meet RingCentral Engage, a customer engagement platform that unifies all your digital conversations.
Channels:
Manage all digital conversations from a single platform
Build stronger relationships and gain deeper insights by integrating digital channels where your customers need you most and managing them through a unified agent desktop.
Engage Social
Engage Chat
Engage Messaging
Engage Mail

Engage Social
Manage conversations across all social accounts.
Social media is no longer just used for peer-to-peer communications. Customers engaging with your business on social networks expect quick answers. Reduce response times on all channels by centralizing flows to ensure operational efficiency, traceability of exchanges, and large-scale processing of your interactions.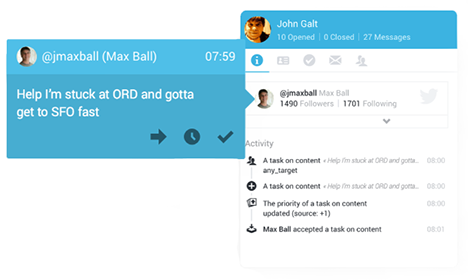 ---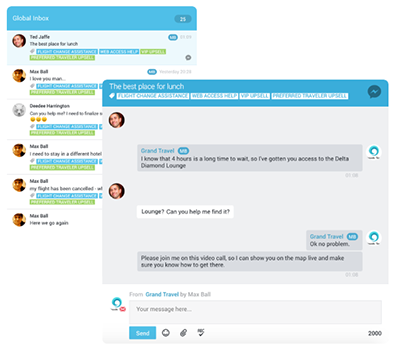 Engage Chat
Assist customers in real time.
Simplify agent/customer communication with live chat. Allow visitors to initiate chat, or trigger live chat invitations using behavioral targeting criteria configured to your business (e.g., time customer spent on site, current page, number of visits, etc.). By providing agents with response assistance and historical customer interaction data, you can personalize conversations and improve the overall customer experience.
---

Engage Messaging
Interact with customers on their favorite messaging app.
Give customers the opportunity to interact with your brand through messaging applications like Apple Business Chat and Facebook Messenger, as well as in-app messaging on a mobile iOS or Android device. With advanced workflows, you can provide a better customer experience and improve overall team performance.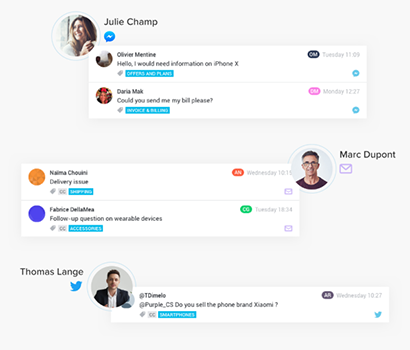 ---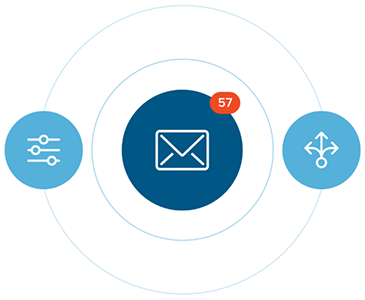 Engage Mail
Benefit from a comprehensive email management solution.
Customers expect a fast and relevant answer when they send an email. Your agents need an efficient tool tailored to your process when handling large volumes of this message type. Engage Mail goes beyond simple routing. It also allows you to track your process, controlling everything from the categorization of messages received to the quality of replies sent.