Online Meetings

Connect, share, and collaborate with RingCentral meetings and conferencing
Simplified business communications for your success
Increase your team collaboration and business efficiency, while you reduce travel expenses. Discover the benefits of stronger customer engagement and lead generation with an all-inclusive audio and video conferencing solution.
Screen share for advanced productivity.
Share screens, presentations, whiteboards, and files in local or cloud storage such as Box and Dropbox. Meetings can hold up to 500 people, and anyone attending can share content and join annotation, which boosts productivity during your conferences.
Video conference around the world.
Hold high-definition video meetings using your computer, smartphone, and tablet. Meet with your colleagues, customers, and clients in real time. Save on travel expenses by making video calls and collaborate anytime, anywhere.
Empower your conference spaces for meetings.
RingCentral Rooms is a seamless extension of RingCentral Meetings to make every meeting space HD video-enabled without the costly on-premises telepresence equipment. Already have proprietary telepresence devices? RingCentral lets you easily connect any legacy H.323/SIP endpoints to RingCentral Meetings to maximize your investment.
There's never a wait to hold audio conferences.
Audio conferencing with a single, dedicated bridge dial-in delivers universal access, and you can hold unlimited conferences with up to 1,000 participants. Local dial-ins are available, so you can stay connected with anyone around the world.
Host dynamic and impactful webinars with global audiences.
RingCentral Webinar extends the reach of RingCentral Meetings, so you can hold customer webinars, global trainings, sales presentations, and product showcases with up to 10,000 attendees and 500 presenters. Easily create and customize events to connect with and engage your audiences on any device. Measure your success and gain valuable insights with post-event reporting data.
Video Conferencing:
Connect. Meet. Collaborate.
RingCentral Meetings empowers you to collaborate around the world on all of your favorite devices. Share content and meet with teams live in HD video.
Boost conferencing efficiency with interactive screen sharing.
Real-time collaboration accelerates the speed of your decision making without the back and forth of email exchanges. Host large trainings and conferences with up to 500 people by simply sharing your desktops, applications, presentations, files, or whiteboards from your computers or smart devices. You and any participant can comment on and highlight the shared content with advanced annotation tools. Record and distribute your meetings for future reference.
Meet face-to-face with global teams.
Eliminate unproductive and expensive travel and stay connected with colleagues, partners, and clients in high-definition video conference calls, even if they are not RingCentral customers. It's only a click away to join a video meeting from your computers, smartphones, or tablets. Join a meeting's audio by simply using Call Me to call your phone. Easily invite people on the fly and chat with a group or individuals within a meeting.
---

Install affordable telepresence conferencing in every room.
Say good-bye to the time wasted searching for the right cable and dialing in to a bridge when starting a meeting in a conference room. It's easy to set up any sized conference space for boosting meeting efficiency with the RingCentral Meetings extension, RingCentral Rooms. Use off-the-shelf equipment to build your own HD telepresence room system without costly, proprietary hardware. Seamless calendar integration lets you schedule and start a video-enriched meeting with a tap on the iPad or Android controller in a conference room.
If you already have on-premises telepresence endpoints, RingCentral Room Connector lets you easily connect the system to the cloud to join any RingCentral Meetings conference.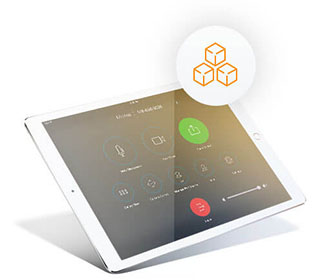 ---

Connect and meet even while traveling.
Maintain your corporate identity and security and support your bring your own device (BYOD) initiative while empowering your mobile meetings capabilities. Join or host conferences from airports, hotels, home, and even your car using Safe Driving Mode with iPhone, iPad, and Android devices. Save on international charges with local dial-in numbers in more than 40 countries.
---

Breakout rooms expand the breadth of group participation.
Conferences and training sessions are now enhanced so hosts can easily create up to 50 breakout sessions. You can split participants up into smaller groups for focused training, brainstorming, and activities. Attendees can share screens, video, audio, whiteboards, and chat in their sessions and return to the main session anytime.
---

One-click scheduling from within your calendars.
RingCentral Meetings works seamlessly with Microsoft Outlook so you can instantly start, schedule, or update a meeting without leaving Outlook. It's also easy to schedule meetings synced with iCal and Google Calendar and send invites by email or text from your devices. Easily launch your conferences to meet and collaborate directly from the link.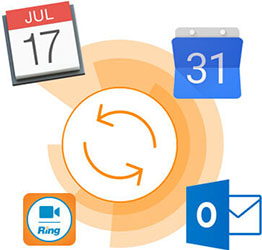 ---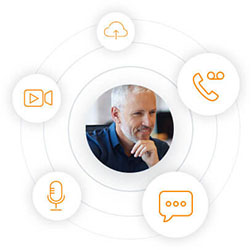 Advanced functionality delivers a better conferencing experience.
Your meetings are clear and engaging with active speaker spotlight, flexible meeting settings, and permissions. Attendees can grant remote control of their computers to other participants, which is a powerful support tool. Anyone can share content, make annotations, and send text messages. Your productivity soars with reliable, enterprise-grade online meetings and video conferencing.
Cloud Telepresence:
RingCentral Rooms
Enjoy an HD telepresence video conferencing experience without expensive proprietary equipment.
Built for every meeting space
Extend your RingCentral Meetings capabilities with an affordable, easy-to-use video conferencing solution that works for any sized conference room. Instantly connect and collaborate with other participants joining from anywhere on any device with one tap of the RingCentral Rooms system.
Easily prepare your web conferencing service in your conference rooms.
Your IT team can set up a cloud-based telepresence room with off-the-shelf equipment, avoiding costly proprietary endpoints and complicated configuration.
Experience advanced conferencing services in any sized room, including compact huddle spaces, medium conference rooms, or large boardrooms.
With a single iPad controller, it's simple and efficient to control the camera, speakers, and participants during online meetings.
Eliminate the lengthy and complicated configuration of on-premises telepresence systems. Set up a RingCentral Rooms–enabled conference room with a simple USB, HDMI plug-in, and Wi-Fi connection.
---

Your conference rooms transform into superior online meetings.
Anyone can start or join a meeting directly from the single interface of your dedicated conference room iPad.
Calendar integration with Google and Microsoft Office 365 / Exchange makes your scheduling seamless. You can see a quick view of upcoming meetings on the interface and tap once to start or join a meeting.
Easily send out a meeting invitation to anyone on the spot.
Connect and collaborate with other meeting participants joining from mobile, tablets, desktops, telephones, or other RingCentral Rooms.
Make and receive calls directly from your Rooms system without additional conference phones in a meeting space.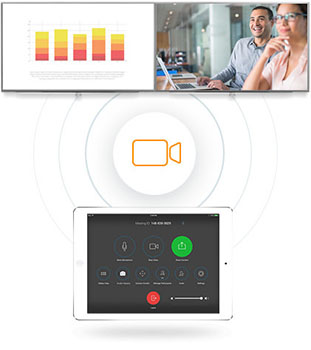 ---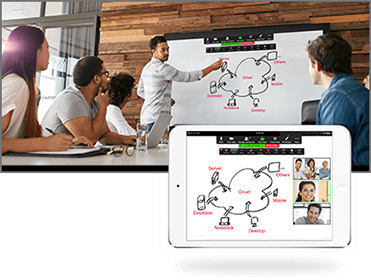 Boost team efficiency with smart sharing for real-time collaboration.
Share content with your team, both inside and outside of physical conference rooms, with an easy touch-based, high-quality collaboration experience.
Flexible options to share presentations, files, and desktops via Wi-Fi, AirPlay Mirror, and proximity signal.
Support three monitors for easy content and participants views.
Sketch and brainstorm your ideas on a whiteboard with your team and clients by utilizing the latest touch technology.
---

Expand your traditional H.323/SIP rooms to the cloud with Room Connector.
Enable your legacy H.323/SIP room systems to communicate with other meeting participants from desktops, tablets, and mobile devices.
Work with a wide range of video endpoints from Polycom, Cisco, Lifesize, and more.
Enjoy an HD meetings experience with quality RingCentral services.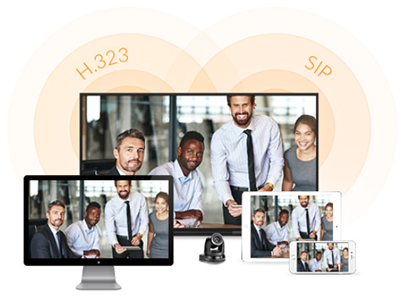 ---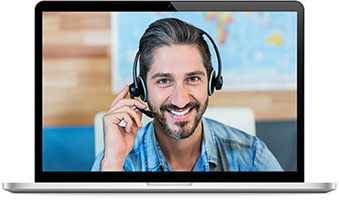 We are here to assist you.
Our video conferencing experts in Professional Services can assist you with hardware selection and purchasing, conference room configuration, and training. Our range of services and support will be tailored to suit the specific needs of your business and to ensure you receive the maximum value from your video conferencing solution.
---
Add-ons

Webinar

Large Meetings

Rooms

Room Connector
Audio Conferencing:
RingCentral conferencing lets you hold instant conference calls whenever you want, no matter where you are.
Stay connected with maximum flexibility
Audio conferencing enables multiple people on multiple phones to connect on the same call. Each person dials in to a central conferencing line and can hear and speak to all the other people who call in to the same line. Conference calls are audio-only connections.
Meetings made easy with conferencing.
Your company gets a single, dedicated audio conferencing bridge dial-in phone number for easy universal access.
Each user is assigned a unique host code and participants code that is exclusively theirs to use, ensuring that multiple users in the company can hold conference calls simultaneously and no one interferes with anyone else.
The audio conferencing line is always ready and available. There's no need to make a call reservation or schedule a call—ideal for bringing people together for ad hoc discussions.
---

Host unlimited audio conferences.
Every user can host an unlimited number of audio conference calls, with up to 1,000 attendees per conference.
Participants don't need to be on the RingCentral network to join a call. You can invite employees, associates, clients, customers, and vendors to your conference. There are no restrictions in the number of conference calls participants can join.
Encourage international participants to join your calls by including local dial-in numbers in your invitations. Local numbers don't have additional toll charges and are available in over 50 countries.
Extend your business opportunities by offering your participants additional toll-free or premium conference numbers in over 80 countries.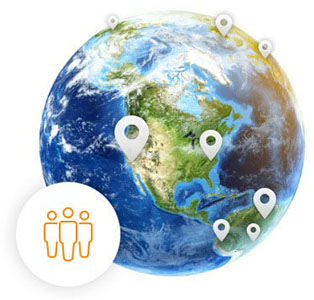 ---

Conferencing works across devices.
Never again feel tethered to your office. Access conference calls from a desk phone, computer, or mobile device from wherever you are. You can even switch devices midway through the conference without interruption.
No need to remember your host access code while using your mobile phone. One tap on your phone instantly starts a conference.
Participants don't need to remember lengthy access codes either. One tap on their text message invitation immediately connects them to the conference.
---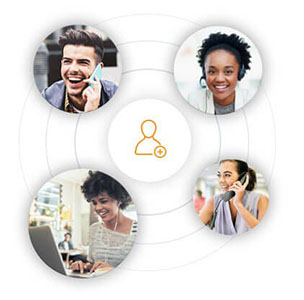 Hosts have full control of the conference call.
Invite participants quickly and easily through email or SMS text messaging. Dial-in details are automatically included in the invitations.
Easily manage participant logistics by taking a caller count, block unwanted callers, or hear sounds every time callers join or exit the call.
Facilitate the meeting with discreet touch-tone commands to mute participants, record the call, flip and continue the call using another device, or officially end the call.
RingCentral Webinar:
It's easy to host virtual webinar events anytime, anywhere.
Hold immersive webinar conferences and make an impact with wider audiences.
RingCentral Webinar expands your RingCentral Meetings capabilities with online events for trainings, sales presentations, executive briefings, and product introductions. You can engage with a broader range of your target audiences with premium video, audio, and interactive features.
Make a bigger impact by presenting to larger audiences.
Host up to 10,000 attendees with up to 500 presenters in live webinar sessions.
Your organization can educate, pitch, and promote more effectively—increasing your sales cycle and lead generation.
Hold trainings for employees, partners, and customers, as well as virtual trade shows and global seminars.
Showcase your products and services and save on travel expenses.
Easily set up sessions and manage messages to your webinar audiences.
Schedule a one-time or recurring event easily from the web.
The registration form is customizable. You can include unique questions, a company logo, and other brand elements.
You have many ways to personalize and send email invitations, confirmations, reminders, and follow-ups.
Streamline lead-gen and nurturing workflow by integrating with marketing automation system.
Enjoy a seamless webinar experience across your favorite devices.
As the host, you have powerful facilitator controls that include audio options, chat, content sharing, and participant management.
Initiate recordings with just a click and easily share your webinars for further trainings, follow-ups, and briefings.
Conduct polls to survey opinions and hold interactive questions and answers with your attendees.
Gain deep insight with comprehensive reporting that details event performance with data and analytics on registration, attendees, Q&A, and polls.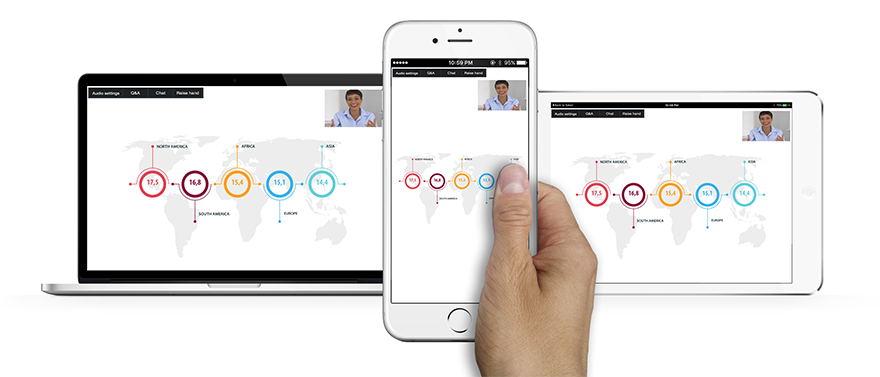 Add-ons

Webinar

Large Meetings

Rooms

Room Connector