RingCentral Contact Center

Revolutionize your customer relationships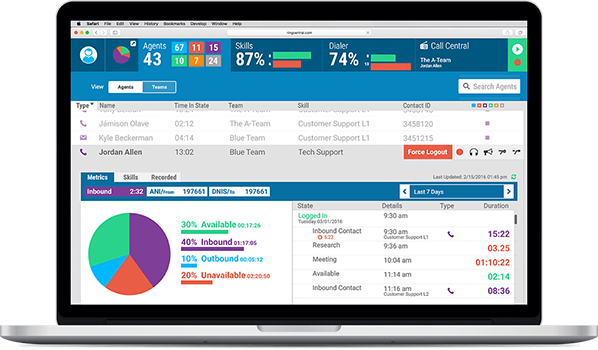 RingCentral Products
RingCentral Contact Center
Overview:
Cloud-based RingCentral Contact Center helps strengthen customer loyalty by dramatically improving the overall call center experience. This omnichannel solution lets customers contact your company on the communication channel of their choice, while giving agents ready access to the data needed to solve problems quickly and efficiently.
With powerful administrative tools and a simple drag-and-drop development environment, RingCentral Contact Center reduces the dependence on IT and puts control back into the hands of call center managers.
Transform customer engagement with Collaborative Contact Center cloud technology

Omnichannel customer routing
Build stronger relationships by connecting your contact center agents with customers on their channel of choice.

CRM software integrations
Optimize workflows by leveraging everyday apps and customizing your own with open APIs.

Agent management software
Work more efficiently with greater flexibility thanks to a user-friendly agent and management interface.

Actionable call center analytics and reporting
Improve contact center service and sales with real-time reports and in-depth customer surveys.
---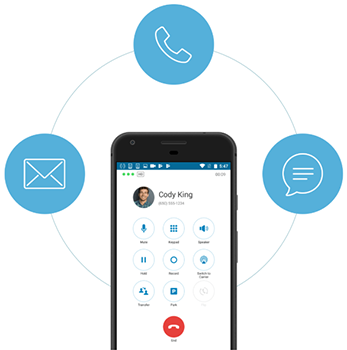 Benefit from omnichannel flexibility for sales and service
Different types of call centers have different methods of communicating with customers. With RingCentral Contact Center, there are no limitations. True omnichannel outbound and inbound routing allows call center agents to meet customers using their preferred communication method. Start conversations with customers across multiple touch points including voice, SMS, social, or email.
---

Enable better communication across your entire company
Increase your call center's first contact resolution rates by providing fast answers to customer questions thanks to real-time collaboration through cloud technology across your organization. With RingCentral Pulse, you can take immediate action to resolve service issues faster.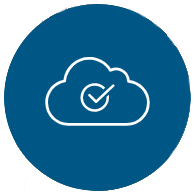 ---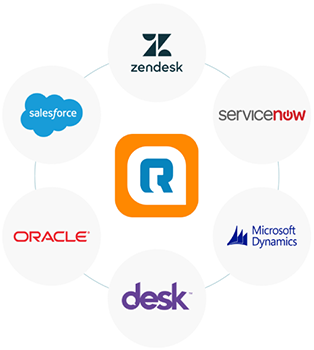 Boost contact center performance with open platform technology
Enjoy seamless integration with essential business applications. Choose from native integrations with CRM apps like Salesforce®, Oracle®, and others. Through the RingCentral open platform, you can tailor your contact center toolset through open APIs that you can use to integrate with other essential business applications.
---

Gain greater flexibility and control
Make better contact center decisions with actionable analytics tools, like easy-to-use dashboards and flexible reporting. RingCentral Workforce Optimization software helps all departments get up to speed instantly and enables staff to work more efficiently. Gain greater flexibility and control over your call center operations without any dependency on IT.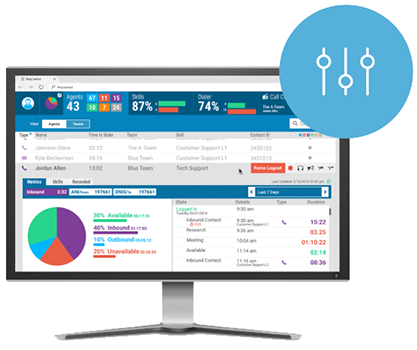 Features:
Serve and sell better with 40+ robust features
From routing to integrations through to management and security, get the most out of your solution with these invaluable tools.

Intelligent routing
ACD
Route calls to the right agent every time according to your own business rules.
IVR
Enable your customers to perform routine operations over the phone by themselves and clarify customer needs for more personalized service.
Skills-based routing
Ensure every customer gets the best available resource on every interaction.
Virtual hold
Offer a queued call-back to free up customers from waiting on hold and protect their place in the queue.
Voicemail routing
Provide customers with the options of leaving a message or receiving a call back at busy times. This allows for routing and queuing to ensure all callers are prioritized properly.
Omnichannel routing
Let customers reach out to you on the most convenient channel for them at any given moment.
Outbound dialing
Increase sales with efficient dialing capabilities that maximize performance, eliminate pauses, and keep you compliant.
Outbound campaign management
Increase sales by knowing who to contact and when, and manage retries and preferred channels.
Chat and co-browse
Close more deals with the offer of help at the right time. Walk customers through forms and web pages when needed.
Social media interactions
Identify relevant questions and comments in the social sphere, contact customers, and manage interactions within your core contact center application.

Integrations
CRM integrations
Personalize the customer experience and drive agent productivity by integrating prebuilt and open API-driven connections into any back-end system.
Screen pops
Provide agents with critical customer information at just the right time to help them close a deal or provide a positive customer experience.
Click-to-call
Experience one-click calling from within your CRM interface. Benefit from focused and fast calling to increase sales or help solve customer issues.
Data-driven routing
Use data from back-end and CRM systems to make smarter connections and build customer relationships.
RestFUL APIs
Get the flexibility to integrate with any system to support any workflow with our powerful APIs.

Administration and management
Surveys
Get access to Net Promoter Score (NPS) surveys, Customer Effort Scores, general satisfaction ratings, and more.
Call recording
Record all calls to gain insight into agent performance and the customer experience, improve agent coaching.
Whisper coaching, silent monitoring, and barge-in
Provide supervisor tools to help agents and ensure the best possible customer experience.
Supervisor tools
Call recordings, monitor, whisper, barge-in, reporting and dashboards, all help lead the way to full workforce optimization.
Prebuilt reports
Get the information you need on agent performance and the customer experience with the most important and targeted predefined reports.
Administration without IT
Respond to changing conditions without IT assistance with easy-to-use administration tools.
Omnichannel analytics
See the full customer journey across all channels and gain insight into agent performance on any channel.
Analytics and dashboards
Get an instant snapshot of how your team is performing and what your customers are experiencing.

Workforce Management and Optimization
Full Workforce Optimization (WFO)
Make sure you are getting the best value from your contact center solution. Two-thirds of the cost of running a contact center is in labor and agent support and now you can get the most out of your investment with our workforce optimization tools.
Workforce Management (WFM)
Optimize agent schedules to ensure customers are not left in the cold during peak times, and agents are not idle during quiet times.
Performance management
Track contact center performance with dashboards that showcase data from CRM and other sources. The added bonus of gamification will keep agents engaged and productive.
Quality Management (QM)
Listen to call recordings, watch screen recordings, and use forms for consistent agent reviews and grading.
Screen recording
Provide feedback to agents on how they should navigate your systems to optimize performance.
Speech and text analytics
Spot customer trends, issues, and changes quickly by reviewing customer conversations for key topics and phrases.
Gamification
Give agents challenges, badges, and prizes while you gain immediate feedback on how everyone is performing relative to the rest of the team.
Coaching and learning tools
Schedule, deliver, and track coaching, which is integrated with individual quality monitoring evaluation scores and KPIs.

Flexible, safe, reliable, and secure
Seasonal scaling
Quickly and easily add or reduce capacity to ensure your customers get the best possible service even during the busiest times.
Active failover
Rest assured that your system will not go down, even if an entire data center is taken out of service.
Guaranteed 99.99% uptime
At RingCentral, we back up our commitment to your business with the highest levels of availability.
Work through a disaster
Hurricane, blizzard, earthquake… when agents can work from anywhere, it doesn't matter what has happened to your office, your contact center will continue to run.
Permission-based access
Your system administrator controls user access. Every user of the system is given access to just the capabilities they need.
Compliant with security standards
Rest assured that you have chosen a trusted partner whose solutions are compliant with HIPAA, PCI, SOX, CPNI, and many other security standards.
Work-anywhere agents
Anywhere your agents can get browser access to the internet becomes a place where customer support or sales can happen.
Encryption
Feel safe in the knowledge that all of your data is protected with powerful encryption capabilities.

Customer engagement across your entire company
Collaboration
Get team support by collaborating on Glip with fast access to experts who can answer difficult questions.
PBX integration
Seamlessly move customers from local offices to your contact center and benefit from extension-to-extension dialing to conference in or transfer to experts.
Shared directory
Give your agents the ability to see who is available across the entire company. Other employees will also be able to see the availability of your agents.
Powerful Cloud Integrations:
Deliver better service and sales by leveraging your most important business tools.
Integrations that work seamlessly with your everyday apps
RingCentral Contact Center natively integrates with CRM and other out-of-the-box business applications as well as open APIs.

---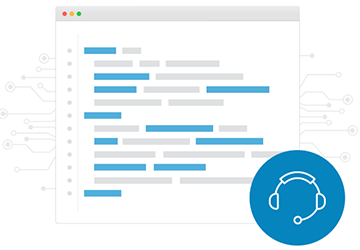 Get quick access to prebuilt integrations
Our ready-to-use integrations make it easy to leverage the CRM tools you rely on every day. Get up and running fast, and arm your agents with the right information to identify the right solution and provide the best service to your customers.
---

Create open APIs for a seamless workflow
RingCentral offers open APIs so you can tailor your contact center to your specific business needs. Connect the contact center with your own custom systems or provide access to specific data.
Compare Plans:
Basic
Support for inbound voice-based call centers
Standard IVR and ACD capabilities
Advanced
Support for omnichannel contact centers
Advanced IVR and ACD
Easy administration and flexible reports
Ultimate
Support for omnichannel contact centers
Advanced IVR and ACD
Easy administration and flexible reports
Advanced IVR outbound dialing capabilities
| | Basic | Advanced | Ultimate |
| --- | --- | --- | --- |
| Service | Inbound voice | Integrations and omnichannel | Blended outbound dialers |
| Voice | | | |
| Standard IVR and ACD | | | |
| Advanced IVR and ACD | | | |
| Omnichannel capabilities | | | |
| Email | | | |
| Chat | | | |
| SMS | | | |
| Social Media | | | |
| Outbound features | | | |
| Preview dialer | | | |
| Progressive dialer | | | |
| Predictive dialer | | | |
| Campaign management | | | |
| Workforce Optimization | Basic | Advanced | Ultimate |
| Perfomance management | | | |
| Omnichannel analytics | | | |
| Workforce management | | | |
| Quality management | | | |
Video:
RingCentral Collaborative Contact Center
With skills-based omnichannel routing and RingCentral Pulse intelligent bots for real-time metrics monitoring, RingCentral Collaborative Contact Center ensures your business will always be equipped to respond quickly to dynamic customer needs.