RingCentral Technology

The cloud has revolutionized the way we all do business.
Yet many companies still stake the reliability and functionality of their communications on closets full of wires and cables. For over a decade, RingCentral has invested in building the most advanced cloud communications platform in the market, so you can confidently move your communications to the cloud.
Overview:


Core commitment to reliability
Our cloud-based technology was built from the ground up to deliver carrier-grade reliability for your business communications. Our distributed, redundant network routes calls dynamically around broken links, while redundant data centers and production environments ensure continuity during outages. We relentlessly focus on delivering quality of service with smart call routing and 24/7/365 monitoring of quality metrics across all modes of communications. We stand by our commitment to reliability with a financially backed 99.999% service-level agreement for qualified customers.*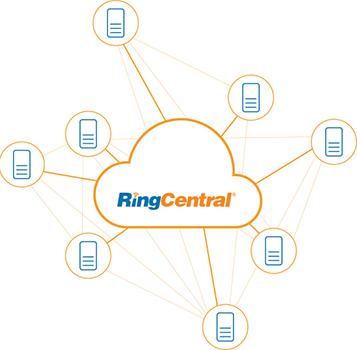 ---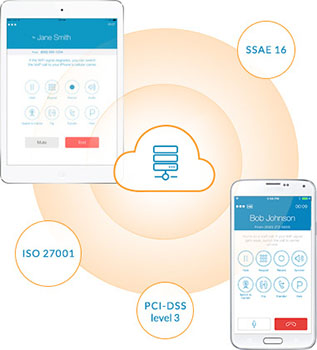 End-to-end security
Our enterprise-grade security is architected to protect your data and your communications. Communications are encrypted between all endpoints no matter what device you are using. Our redundant network and infrastructure are protected with multiple layers of physical and logical security, and our data centers are audited regularly to ensure compliance with SSAE 16, PCI-DSS level 3, and ISO 27001 standards. Analytics-based, automated fraud detection and mitigation provide you with the peace of mind you need for your business.

---


Quality of service
Our global private backbone allows for single reliable connectivity independent of a local broadband provider. With our Direct Connect you receive OTT internet access through a variety of vendors of your choice. Throughout the communications platform we architected, we provide end-to-end quality of service, deploying state-of-the-art technology like Opus and HD audio and video. Our Professional Services team provides a variety of services to plan, design, integrate, and transition your communications infrastructure. We also offer dedicated on-site deployment to ensure a no-downtime, worry-free transition to the RingCentral system.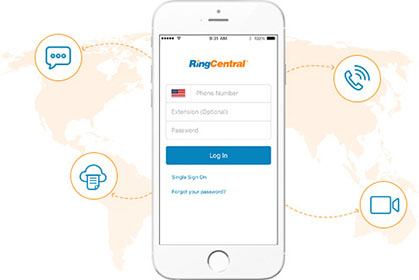 ---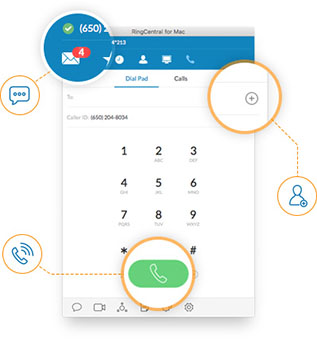 Superior user experience
Innovative, enterprise-grade communications solutions should not be complex to implement. We built our applications with the user experience in mind at every step. Whether you are an administrator configuring the system or adding a line, or a business user changing your message settings, our apps are designed with the user in mind. The results? Empowered customers through an intuitive, easy to navigate, and obsessively consistent multi-device experience.

---


Integrations and APIs
We built RingCentral as an open platform with easy-to-use APIs and SDKs so you can seamlessly integrate business communications into your key business processes. Our pre-packaged integrations with CRM, Office, and other business applications allow you to automate workflows, drive efficiency, and gain deep insight from communications data. Our enterprise-grade, open platform allows you to innovate and tailor your communications systems to your unique environment.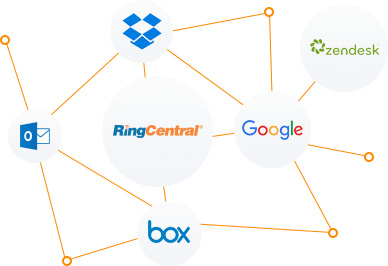 ---


Fast deployment
Our solution is easy to implement, and many customers go live in no time. Our Single Point of Contact organization provides you with a direct resource to support you every step of the way. If you are planning a more complex implementation, our team can do the work for you.
RingCentral Reliability:
Reliability from the ground up
Since day one we've focused on delivering enterprise-grade reliability and quality of service. We invest in our own technology and network, and our team of professionals proactively monitors and optimizes our platform 24/7/365.
A culture of innovation
Rather than rely on others' technology, RingCentral made a strategic decision early on to build our own technology and our own network. This commitment allows us to provide our customers with carrier-grade reliability and outstanding QoS at all times.


Keeping your company open for business
Natural disasters, power outages, and malicious network attacks can cause communications downtime that frustrates your customers and threatens your bottom line. Our distributed network is fully redundant in every location we serve, providing you with a truly global infrastructure that ensures 24/7 business continuity for your company.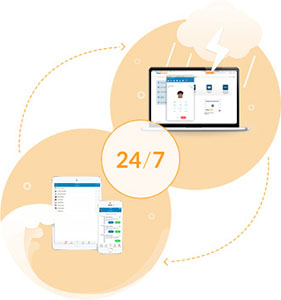 ---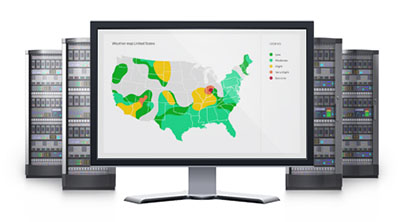 End-to-end monitoring
RingCentral continually monitors the end-to-end performance of our network to ensure KPIs such as quality metrics, completion rates, and availability remain at peak levels. Globally, we have alarms in place that warn of widespread, significant drops in endpoint performance.
---


Real-time system information
Our self-service portal allows users to log in 24/7 to check the overall health of the RingCentral system. You can confirm in real time whether your communications services are up and running and monitor the resolution status of system-wide problems.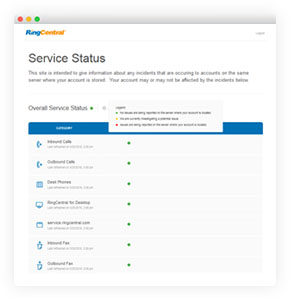 ---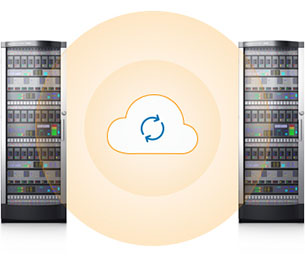 Disaster recovery
The RingCentral platform has been architected to support failover conditions in case of emergency. Using SIP trunking, RingCentral provides real-time disaster recovery by switching active services from one data center to another. Thanks to redundant internet connections, our fax, voice, voicemail, and conferencing services can all continue to operate without interruption.
RingCentral Security:
End-to-end security
The RingCentral platform utilizes multiple layers of security to protect your data and communications while also guarding against fraud and service abuse.


Seven layers of security
RingCentral gives you added peace of mind by instituting robust security measures at every level of our architecture and processes. These include the physical, infrastructure, host, data, application, and business processes, as well as the enterprise level of your organization.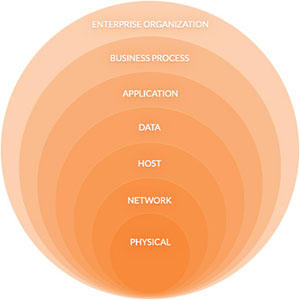 ---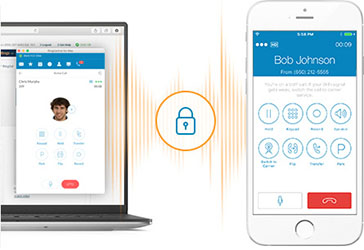 Transmission security
To prevent interception of your communications, RingCentral provides Transport Layer Security (TLS) and Secure Real-Time Transport Protocol (SRTP) encryption between all endpoints.
---


Infrastructure security
RingCentral offers the following infrastructure safeguards:
Network and applications: firewalls and session border controllers
Administrative functions: multiple authentication levels
Technology: intrusion-detection systems and fraud analytics
Operational functions: monitoring, system hardening, and vulnerability scans
Payment processing: full PCI DSS 3.1 compliance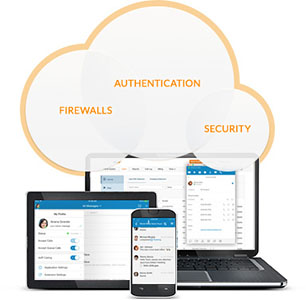 ---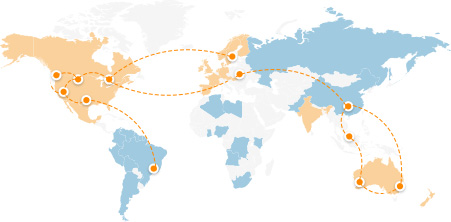 Physical and environmental security
The RingCentral platform is deployed across SSAE 16 and ISO 27001-audited data centers, protected by the most robust electronic prevention systems, on-site engineering specialists, and security guards. The geographic diversity of our locations also minimizes the risk of data loss and service interruption due to catastrophe.
---


Proactive fraud mitigation
RingCentral prevents toll fraud through access control, detection controls, and usage throttling, and gives you granular control over who gets to make international calls and to where. Plus our global security department actively monitors your account to detect irregular calling patterns and prevent fraudulent charges.
---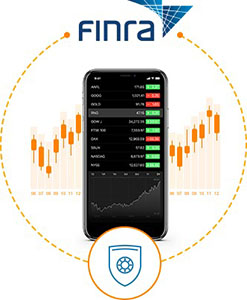 FINRA security controls
FINRA's mission is to protect investors by making sure the United States securities industry operates fairly and honestly. RingCentral has received compliance in security controls for cloud providers established by FINRA to protect all data and information of our customers who are using RingCentral Office and the RingCentral app (previously known as Glip).
---


Compliance
We regularly undergo independent verification of our security controls to protect our customers' data and communications and to meet regulatory and compliance needs.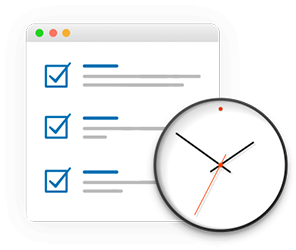 ---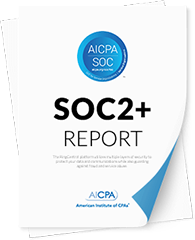 SOC 2 Type 2 (SOC 2+)
The SOC 2 report validates the effectiveness of our operating controls as a service organization against the criteria set forth by the American Institute of Certified Public Accountants (AICPA) Trust Services Principles. RingCentral annually undergoes a third-party audit to certify our services against this standard. A copy of the most recent report is available upon request from your Account Manager or Sales Representative.
---


SOC 3
Unlike a SOC 2 report, a SOC 3 report can be freely distributed to the public for general use. RingCentral has undergone a third-party audit to certify our services against this standard.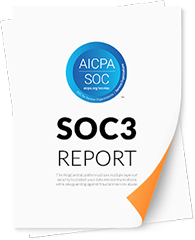 ---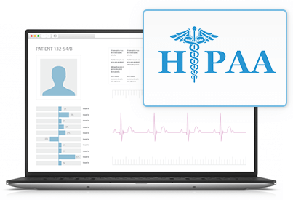 HIPAA compliance
The government does not offer a HIPAA certification for business entities. In order to meet the HIPAA security requirements as they apply to our service and operations, RingCentral has implemented the HIPAA security safeguards. We annually undergo a third-party SOC 2+ audit, which includes an assessment of controls mapped to the HIPAA Security Rule requirements, that demonstrates the implementation of the security safeguards and requirements outlined in the HIPAA Security Rule. A copy of the most recent report is available upon request from your Account Manager or Sales Representative.
---
HITRUST
RingCentral Office and the RingCentral app have earned Certified status for information security by HITRUST. HITRUST CSF Certified status indicates that these RingCentral apps have met industry-defined security requirements and are appropriately managing risk. RingCentral joins an elite group of global organizations that have earned this certification. By including federal and state regulations, standards and frameworks, and incorporating a risk-based approach, the HITRUST CSF helps organizations address cyber security challenges through a comprehensive framework of prescriptive and scalable security controls. HITRUST CSF Certification sets the highest standard for compliance of security requirements and has become the benchmark which organizations apply to safeguard ePHI data.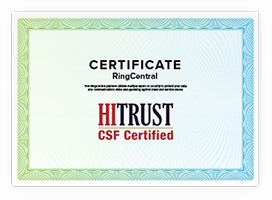 ---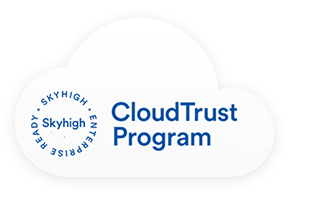 Skyhigh Enterprise-Ready (McAfee Enterprise-Ready)
RingCentral Office has earned the Skyhigh's CloudTrust rating of Enterprise-Ready, the highest rating possible from Skyhigh. Skyhigh provides this status to cloud services that fully satisfy the most stringent requirements for data protection, identity verification, service security, business practices, and legal protection.
RingCentral Quality of Service:
Quality of service through and through
At RingCentral, we're deeply committed to providing our customers with unsurpassed quality of service every day.
Dedicated to quality of service
At RingCentral, quality of service lies at the heart of all of our architecture and technology decisions. In fact, every aspect of our platform has been designed to provide your company with the highest-quality business communications possible. RingCentral experts help tailor and fine-tune our solutions to match your specific network environment, and our robust reporting dashboard allows you to actively monitor your phone system's call quality performance.

Global private backbone
RingCentral offers a truly global unified communications as a service (UCaaS) solution, capable of supporting your organization no matter where you do business. We provide connectivity through a private backbone that's independent of local providers or telco operators and offer local access numbers in countries worldwide.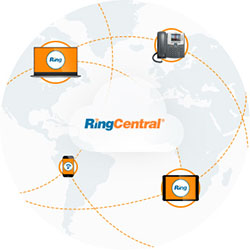 ---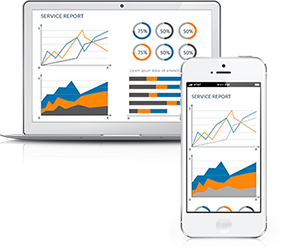 Quality of service
Access key operational quality of service metrics in near real time to monitor your phone system's global health and accurately diagnose call quality issues impacting your users. Our powerful reporting dashboard provides you the visibility to proactively address potential problems affecting call quality and to troubleshoot those issues at a granular level.
---

Enterprise connectivity options
To enable the ultimate in quality of service (QoS), RingCentral can help your business connect directly to our cloud by provisioning a Direct Connect circuit.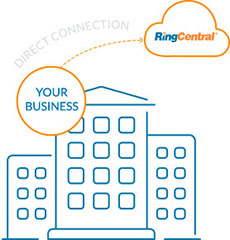 ---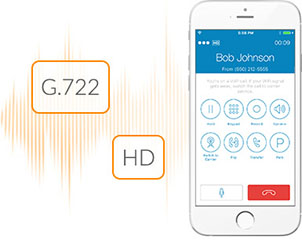 HD voice and video
To consistently deliver the highest HD quality possible, RingCentral utilizes the well-regarded Opus Interactive codec for audio and video, as well as the G.722 codec for audio.
RingCentral User Experience:
Superior user experience
RingCentral believes business software should be as easy to use as your favorite consumer applications.
Administrators and end users both deserve intuitive applications
That's why we create applications across devices and modes of communications that are intuitive and easy to use. No matter what device you are using and what mode of communication you prefer, your end users can open a consistent and intuitive interface to communicate, and you can set up your communications system to personalize your individual experience.

Intuitive applications
Whichever device or mode of communication you prefer, the RingCentral app provides a consistent, intuitive interface. Plus it allows both your admins and employees to easily personalize the RingCentral system to their liking.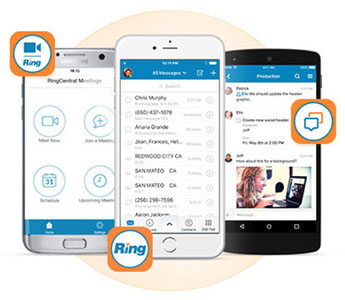 ---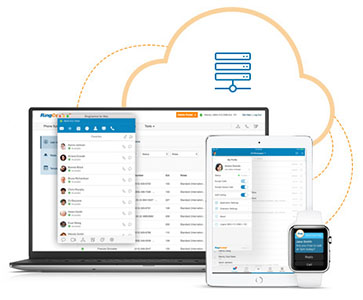 User-friendly designs
Most phone systems require long implementation processes that involve teams of consultants and hefty user manuals. And once you're live, you need training and certification just to administer the system. With RingCentral you can begin configuring the system in minutes and start enjoying advanced functionality such as sophisticated call management and logging, intelligent collaboration, business messaging, and industry-grade integrations.
---

Consistency across devices and communication modes
RingCentral provides a seamless and consistent experience across all of your devices, whether you're using a computer, tablet, mobile phone, or smartwatch. This ubiquitous user experience takes advantage of native implementations across a full range of communication modes, including phone calls, video conferences, Business SMS, and more.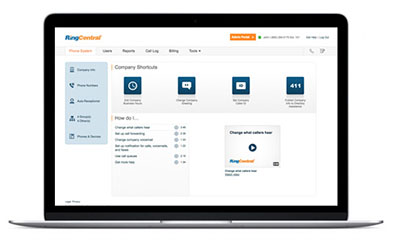 RingCentral Integrations & APIs:
Easy integration
Built as an open platform from the ground up, RingCentral is designed to easily integrate with leading applications. Industry-standard APIs enable your developers to innovate in novel ways, adding value to existing products.
RingCentral technology was built for integrations
Our Connect Platform allows you to seamlessly use the leading apps in the market out of the box. With the Connect Platform, you can also infuse communications into your custom business-critical apps. This allows your workforce to be more productive, your customers to be more satisfied, and at the same time provides you valuable insight into your business.

A powerful union between your communication and business apps
Built as an open platform from the ground up, RingCentral utilizes industry-standard APIs to easily integrate your communications into key business processes. With RingCentral, you can automate workflows, drive business efficiency, and gain valuable insights from your communications data.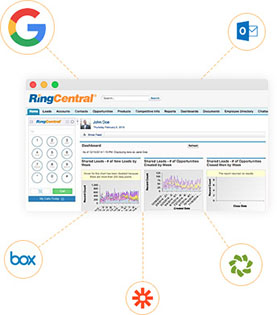 ---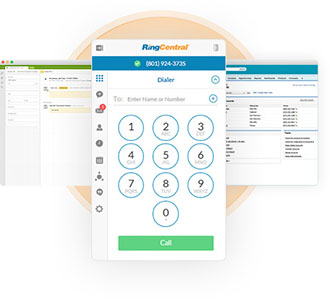 Business tool integrations
RingCentral offers tight integration with many of today's most popular business apps. This allows your company to break down the silos that can hinder communications, enabling your employees to work more efficiently and connect more easily with both customers and colleagues.
---

Open and extensible
Our APIs and published SDKs enable you to utilize the RingCentral system as an open, self-service platform. Out-of-the-box integrations are available with leading business applications, allowing you to leverage the platform to integrate your communications into your custom business apps. Many plug-and-play integrations are available in our App Gallery, and our developer platform allows you to quickly create your own integrations and extensions.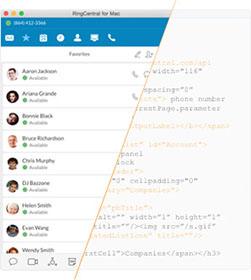 ---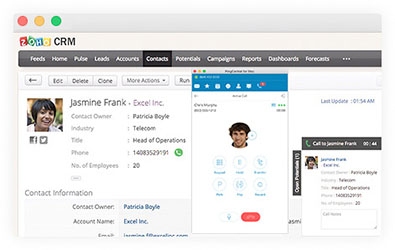 Superior customer experience
Our APIs enable you to easily access the data you're already managing—such as call logs, business rules, messages, and presence—directly within RingCentral. This enables richer and more innovative workflows for your customer service teams. For instance, a service agent could see who's calling and then quickly access that customer's call history and more.
---

Seamless dispatch and notifications
Thanks to integrations with popular business tools, you can send Business SMS, multimedia, and fax messages directly from your favorite apps. Use the system to dispatch field personnel, or automatically notify customers of order status, delivery delays, problem resolutions, and more.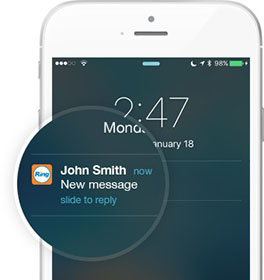 ---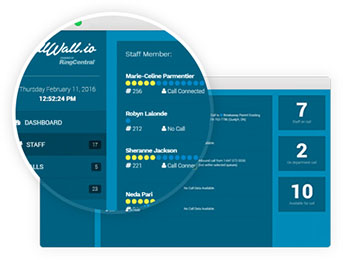 Drive operational efficiencies
RingCentral improves the day-to-day efficiency for employees by enabling seamless dialing from within popular business applications or your company's in-house solutions. With computer telephony integration (CTI), you can bring together your business communications and front-office applications with functions such as click-to-dial, screen pops, queuing, and prioritization.
---

Insightful communications intelligence
Gain valuable real-time insights by analyzing communications data to pinpoint trends and volumes. Interested in monitoring call center operations or creating a live dashboard of sales activities? Our developer platform gives you direct access to your communications data so you can more closely monitor your business activities.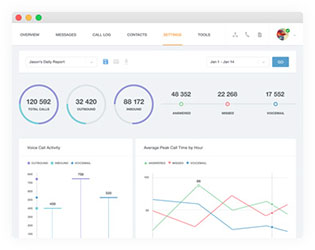 ---

RingCentral Professional Services:
Get the most out of your RingCentral service with our expert consultants.
RingCentral Professional Services can help you optimize your investment in RingCentral, whether you're brand new to us or a long-time customer. Through our portfolio of services, ranging from planning, designing, and implementation to project management, ongoing support, and consulting, RingCentral Professional Services enables you to reduce infrastructure costs while establishing a framework to drive employee efficiency and accelerate business performance.
Professional Services engagements are ideal for businesses with multiple locations, complex network infrastructures, limited in-house IT resources, or require minimized business disruption. Our Professional Services consultants are experts in the communications industry, with deep cloud technology domain knowledge. They are adept at proposing breakthrough recommendations most applicable to your situation. Consultants can travel to your location and remain on site for the duration of your Professional Services engagement.
Onboarding and implementation services
Launch your new RingCentral system to the company with no worries and no downtime to your IT organization. A Professional Services consultant will visit you on site and provide end-to-end project management until you successfully deploy the system.
Professional Services consultants work closely with your team to formulate a personalized design and plan to ensure you have the latest communications technology while leveraging existing investments to keep costs down. Our certified experts provide hands-on deployment assistance and training to ensure business continuity.
Onboarding and implementation highlights:
Pre-deployment consultations to understand your unique environment
Network readiness assessment to identify your implementation requirements
Personalized implementation and deployment plans designed specifically for your business needs
Hands-on training for administrators and users to ensure smooth onboarding
Extended enterprise services
Your business depends on an efficient and sustainable business communications system. RingCentral provides extensive support to ensure your RingCentral service is evolving with you, and your communications system is leveraging the best practices that drive business success.
Engage with our designated team of cloud-domain experts for proactive network monitoring, premium technical support, delegated administrative maintenance, and more.
Extended enterprise services highlights:
Assigned Technical Account Manager and Customer Success Manager professionals for each account to resolve account or technical issues
Expedited technical support with heightened escalation process for timely resolutions
Proactive case management, network monitoring, and notifications keep you on top of every issue
Quarterly best practice recommendations to minimize phone downtime, business inefficiency, and improve IT performance
Hardware and service for your conferencing spaces
Equipping your conference spaces with hardware and setting it up can be daunting. We offer an out-of-the-box solution that includes selecting equipment, installation, and on-site implementation. A dedicated project manager will assist in the transformation of any meeting space into a one-touch, HD video–enriched conference room.
Rooms in a Box service includes:
A pre-service consultation that will ensure we create the right package for your conference room needs
Equipment and material shipped directly to your locations
On-site hardware and software installations and deployments
Integration configurations made with your preferred calendars
Comprehensive post-installation maintenance and guidance to ensure quality of service and ease of use
Training for your IT and administrators for ongoing governance and modifications
Consulting services
RingCentral Professional Services is an ongoing resource you can utilize at any point as a RingCentral customer, especially when your company is going through a major change. Our strategic and technical consultants will work closely with you to accelerate ROI and deliver an improved customer experience.
Consult with us during times of transition
Contact us when your core business mission changes, when you plan to expand or pull back your business significantly, after an acquisition or merger, or when you've had an extensive organizational overhaul. Professional Services can work with you to assess your current situation and design a communications strategy to serve your new goals.
We offer extensive planning and design services to ensure your RingCentral service is evolving with you, including in-depth network mapping or remapping, comprehensive discovery and assessments based on your updated business requirements, and detailed reviews of your call routing processes as they map to your front office needs.
Consult with us to optimize your app development projects
As you enter the intense new world of integrated applications, you can rely on our expertise in custom development and integration automation. Contact us for developer support, testing, knowledge transfer, and training. Our team of cloud-domain experts can provide the guidance, project management, and even custom packaged applications that ensure your integrated app fully supports your business requirements.